You don't need to look any further. 7Solutions has a large fixed stock of high quality calibration gas / span gas in all kinds of gases, mixtures and sizes, which enables us to deliver quickly. We offer calibration gas in aluminium bottles with volumes of 34 litres, 58 litres and 116 litres. But also in a steel version of 103 litres for non-reactive gases. In addition, you can choose different balance gases such as AIR and Nitrogen. In short: for every gas detection device, fixed or portable, we have the right calibration gas at 7Solutions. Read more about our calibration gases for all brands of gas detection below this picture. Or contact us directly if you have any additional questions about calibration gas or our other solutions. Call us at +31 10 27 99 991 or use our chat function.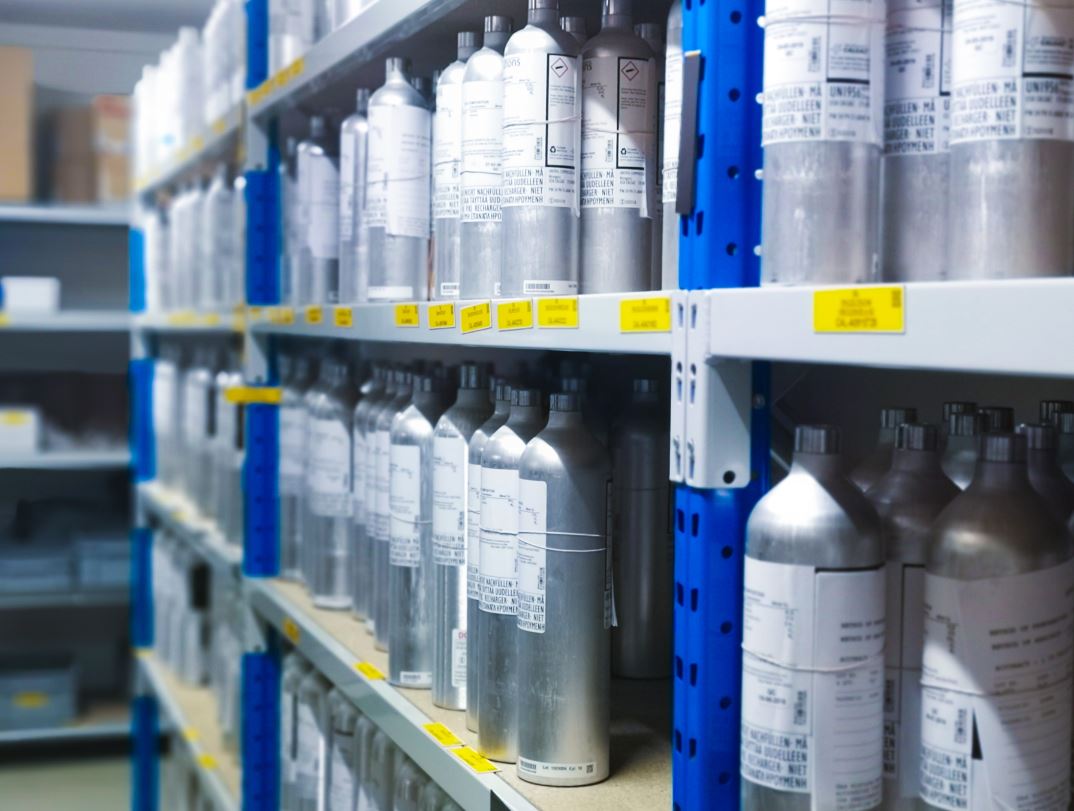 Why is calibration with the right calibration gas so important?
There are several reasons to calibrate your gas detector. If your gas detection device regularly comes into contact with gas, it can affect the sensitivity of your sensors. This is also possible due to the cross-sensitivity of gases or potential dirt in the sensor(s). As a result of this, your device might display the wrong values. That is why it is essential to bump your equipment regularly (preferably before use) and to calibrate it at least once a year. The use of the correct calibration gas is important, because the correct settings differ from brand to brand. The correct composition and concentration of the used gas is decisive for a successful calibration. Would you like to know more about this topic? We are happy to advise you.
High quality calibration gas
7Solutions stands for quality, knowledge and service. That is why we only offer high quality calibration gas bottles. In addition to the bottles being delivered from the manufacturer with a traceable certificate (NIST), we carry out random checks on volume, pressure and concentrations within the gas cylinder. The checked cylinders are given a label with the date of the quality check. An expiry date is also always stated on the calibration gas cylinders. We do this because some gases in a bottle get lost over time. And of course, you want to be sure that the measurements are carried out with the correct values, to guarantee the safety of yourself ánd your gas detection device.

Calibration gas for all types of gas detection at 7Solutions
7Solutions is the brand-independent specialist in gas detection, founded in 2003 and based in, among others, the Netherlands, Germany and Abu Dhabi. With passion and devotion, we offer you the best solutions in gas detection. Our goal is to keep people, buildings and machines safe on a daily basis. Besides advicing you for your new gas detection equipment, we are also intensively trained, and certified, to calibrate and maintain a large scala of gas detection brands. Of course you need the right calibration gas for this, because each brand of equipment has different sensors. Of course, there are also plenty of customers who independently calibrate their appliances. We help you choose the right calibration gas, at a competitive price with a fast delivery time.
Do you need help calibrating your gas detection or would you like some advice regarding gas detection?
Contact us by phone on +31 10 27 99 991 or use the chat. Looking for other contact details? Click here!